I have a slew of DJ sets coming. Some of them are just being confirmed and I will add them to the list so check back later. There might be additional festivals and what not.
Very exciting to get all this lovely travelling in and meeting so many wonderful people. I feel very blessed.
Basket of Light Festival – 9th-11th Jun
Brilliant small festival in Wales.
https://www.basketoflight.co.uk/
Le Freak – Selextorhood Takeover – Friday 30th June
Global Rotations X Energy Flow – Friday 7th July
At Pan Pan in Birmingham. Details TBC. I'll assume 8pm till late.
Wild Peak Birthday Party – 15th July
Private outdoor party for a brilliant housing co-op in the Derbyshire hills. Email me if you want to come.
My mum's retirement party – 18th July
Congrats mum! Can't wait to spin at your party in an awesome venue in Birmingham. Email me if you want to come.
SElext Sounds – Wednesday 18th July
New Selextorhood club night At the Night Owl Birmingham, 8pm till Midnight. I played at the last one covering for someone who couldn't make it and it was excellent vibes. This is after the earlier party on the same day.
Birmingham 2023 Festival – Wednesday 2nd August
DJ set with Selextorhood at the amazing municipal festival. 5pm, Centenary Square.
https://www.birminghamfestival23.co.uk/whats-on/wednesday-2nd-august/selextorhood/
Lockerbrook Love In Festival – 3rd -7th August
Small invite only self organised festival. It's at full capacity now. Very excited for this one.
Dorothy Towers Screenings at Edinburgh Art Festival – 11-27th August
The film I recently made the music for is screening at the Edinburgh Art Festival. I also made a new 30 minute sound piece that can be heard in a adjacent room.
Chaos Camp (Germany) – 15th -20th August
Huge legendary hacker festival outside Berlin. I will be playing somewhere, sometime TBC.
Invasion: Mist Fundraiser – 25th August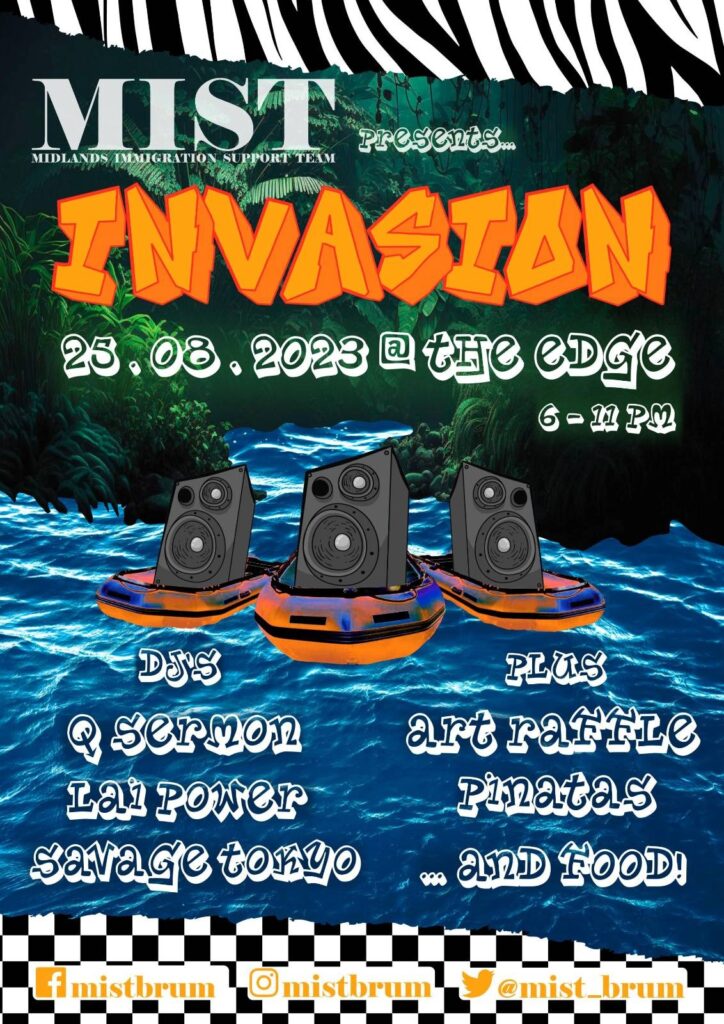 Fundraiser for new migrant support organisation MIST. At The Edge, 79-81 Cheapside, Birmingham, B12 0QH sometime between 6-11pm.